This shop has been compensated by Collective Bias, Inc. and its advertiser. All opinions are mine alone. TeaProudly, #BigelowTea #TeaProbiotics #TeaProudly #CollectiveBias
This classic Apple Cake is perfect for your fall tea-time. 
With Fall just around the corner, I thought it would be great to try a new tea pairing – perfect for when the days and night start to get more crisp and cool.  Apples go hand in hand with the season – so I decided to try a traditional apple cake to pair with my favorite Bigelow teas.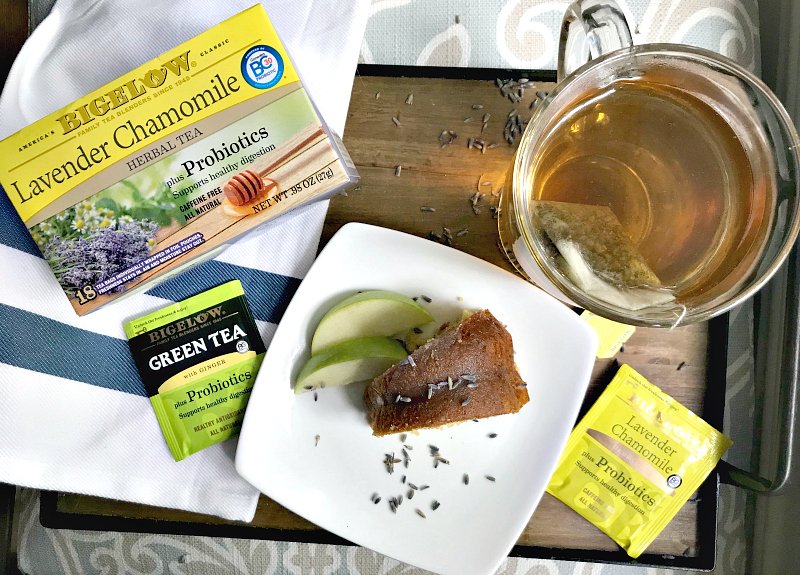 On the day I made this cake, I was drinking Bigelow Lavender Chamomile Plus Probiotics and decided to garnish my Apple Cake with culinary grade lavender* – which turned out really pretty and unique. 
The Lavender Chamomile Plus Probiotics is new to Walmart, along with the Bigelow Green Tea with Ginger Plus Probiotics.  
You can also choose the other probiotic flavor, Bigelow Lemon Ginger Plus Probiotics. No matter your preference, all three teas with probiotics help support daily healthy digestion. For me, Bigelow is a brand that means high-quality tea to me. I know I'm getting the best blends in their tea – and it's no exception with the probiotic flavors. Each ingredient in the teas has been carefully selected by the Bigelow family to deliver an uncompromised tea experience. And tea should be just that – an experience. A moment. Down-time.  So I love that the blend has been combined with Ganeden-BC30, an innovation that helps maintain a healthy balance in the digestive tract when used as a part of a healthy diet. 
With a quality blend and health benefits, it's even easier to Tea Proudly with my favorite tea brand – Bigelow. 
To help maintain a healthier lifestyle, I made a few substitutes to a classic apple cake recipe – making it a bit 'lighter.' See the full (and easy) recipe below. 
Perfect with a hot cup of Bigelow Tea, this apple cake is a great recipe to have for the fall and all your tea-moments. Enjoy!
You can find Bigelow Teas, and the new probiotic varieties at Walmart in the tea section. You can also follow Bigelow on Facebook, Twitter and Instagram! 
Recipe : CLASSIC APPLE CAKE 
*a lightened up version* 
Ingredients: 
2 tbsp Reduced-fat cream cheese
1 cup sugar
1 cup packed brown sugar
2 eggs 
3 egg whites
1/2 cup unsweetened applesauce
1/2 cup orange juice
1/3 cup canola oil 
2 1/2 teaspoons vanilla extract 
3 cups flour
3 tsp baking powder
Apple Mixture:
4 cups sliced apples (I used a mixture of granny smith and Honeycrisp) peeled
1 tbsp cinnamon
3 tbsp sugar 
For Garnish: 
Lavender was used   *Culinary Grade Lavender – be sure you ONLY purchase culinary grade – not something you find in the craft store! Culinary grade is not as strong tasting and specifically manufactured to be edible. 
Directions: 
Preheat oven to 350 degrees. Grease and flour a bundt pan or you can use a tube pan. Set aside.
In large mixing bowl, beat cream cheese, sugar, brown sugar until blended well. Add eggs and egg whites and beat well after each addition. 
Add applesauce, orange juice, vanilla, oil and beat until smooth. 
Combine the flour and baking soda – add to wet mixture and mix well. 
In a separate bowl, toss the apples the cinnamon and sugar (you can add a bit of lemon juice to prevent browning) 
Spoon a third of the batter into the pan – top with half of the apple mixture. Repeat and finish with the last third of batter. 
Bake for 60-80 minutes or until a toothpick inserted comes out clean. 
Cool for 15 minutes before removing from the pan. Remove to wire rack to cool completely. 
Optional: Garnish with Culinary Grade Lavender for tea pairing.