Thank you BJ's Wholesale Club for sponsoring this post.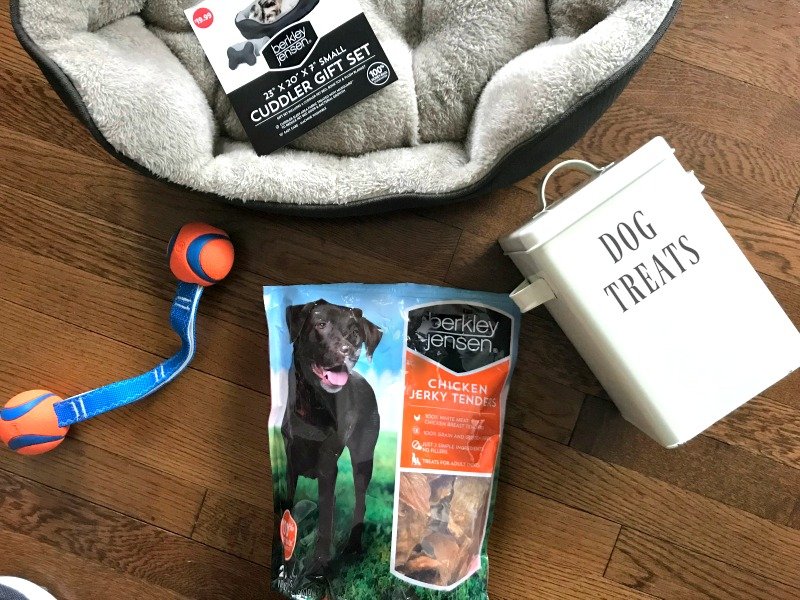 Click the Image Above to Shop!
Everyone thinks they have the best dog. And none of them are wrong.
Dog owners know that there's no bond like the bond with your dog. Our dog, Oliver, is so important to our family and we love to see him happy and healthy.
Dogs don't ask for much – they love you no matter what. No matter what kind of day you are having, it is unconditional love all the time. It makes it all the more important to pamper them from time to time, but you don't have the break the bank to do so!
5 Easy Ways You Can Pamper Your Dog:
New Bed
Who doesn't love new bedding?  New sheets and bedding are the best and your dog thinks so, too! Make sure your dog has a great bed that fits his size, is comfortable, warm and cozy. Our dog has a couple of beds, but we felt it was time for an upgrade after a couple of years.
I scored the Berkeley Jensen Cuddler Pet Bed that came with a Bonus Blanket and Toy at BJ's Wholesale Club, where I shop for so much of what we need for Oliver!  This bed is soft and plush and I love that it came with a toy and a little cuddly lovey for him. As you can tell, Oliver approves 100% and I approve of the value and quality of the pet supplies at BJ's.
New, Quality Treats
Oliver is on a strict diet — and he eats the same food all the time. But treats and chews are a really important part of what we give him. I like to change it up to keep him interested and satisfied. BJ's has everything you can possibly need to stock up on dog treats, biscuits, chews and more. I rotate a jar of special 'treats' Oliver can have, so stocking up is essential.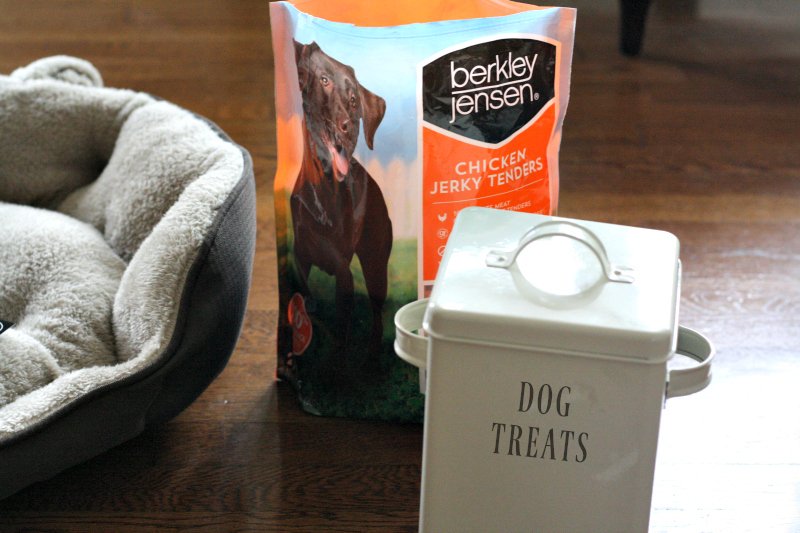 Click the Image Above to Shop!
On my last trip, we purchased the Berkley Jensen Chicken Jerky Dog Chews and Oliver absolutely loves them. They are cooked on open grilling racks to reduce fat and give them a delicious flavor that will leave your dog feeling spoiled!  I love that they are 100% raised and made in the USA.'
New Toys
Not much explanation needed here!  Dogs LOVE new toys and it doesn't take much to please them.  
Dogs get bored with the same toys, so I like to buy a bunch and rotate his toys. Store them in a little bin so your dog always knows where to find something to play with.
New Clothes or Collar
If you have a dog that loves being outdoors, a dog sweater or scarf is a fun and easy way to pamper your dog! Oliver gets cold easily, so we usually need to put a sweater or jacket on him to head outside in the chilly mornings.  Is your dog not into wearing stuff — try a new collar or harness. Upgrade and update to a great fitting or more comfortable collar or leash. Your dog will thank you!
Day at the Park
Whether it's a visit to the dog park, a favorite open space, beach, lake or letting your dog tag along on a hike, let your dog join you and get them outdoors.
If you can safely give them some off leash time (like at a fenced, designated dog park) they'll enjoy the fun and freedom!
Our dog loves exploring a preserve near our home  — there's a small stream and lots to see. He loves running around and then plopping down to people watch. He also loves catch on the beach and getting his paws wet in the surf!
Pamper Your Dog by Visiting BJ's
Now that you have some ideas to pamper your dog, start by shopping at BJ's, saving you time that you can give back to your dog!   BJ's Wholesale Club is a one-stop shopping destination to give pets the very best. As I mentioned, our pets are like family, and BJ's knows that. They offer a  wide assortment of food and accessories for your fur-babies at an unbeatable value. They have a large selection of leading national brands and specialty pet food brands that cater to your pet's needs without breaking your budget. The BJ's exclusive Berkley Jensen line of high-quality pet products provides the nutrition that pets need to live a long, healthy and happy life, all at an incredible value.
Why Shop at BJ's Wholesale Club?  Families can save up to $500 a year by shopping at BJ's. They are committed to offering the best value, with their members (like me!) saving 25% off grocery prices every single day. PLUS, they are the only membership warehouse to accept manufacturer's coupon – which is big. It's more savings for you.
Learn more by visiting BJ's Wholesale Club ===> HERE!
Share with me: What are some ways you pamper your pup? or other pet?
I was selected for this opportunity as a member of CLEVER and the content and opinions expressed here are all my own.