This shop has been compensated by Collective Bias, Inc. and its advertiser. All opinions are mine alone. #OwnWhatYouEat #CollectiveBias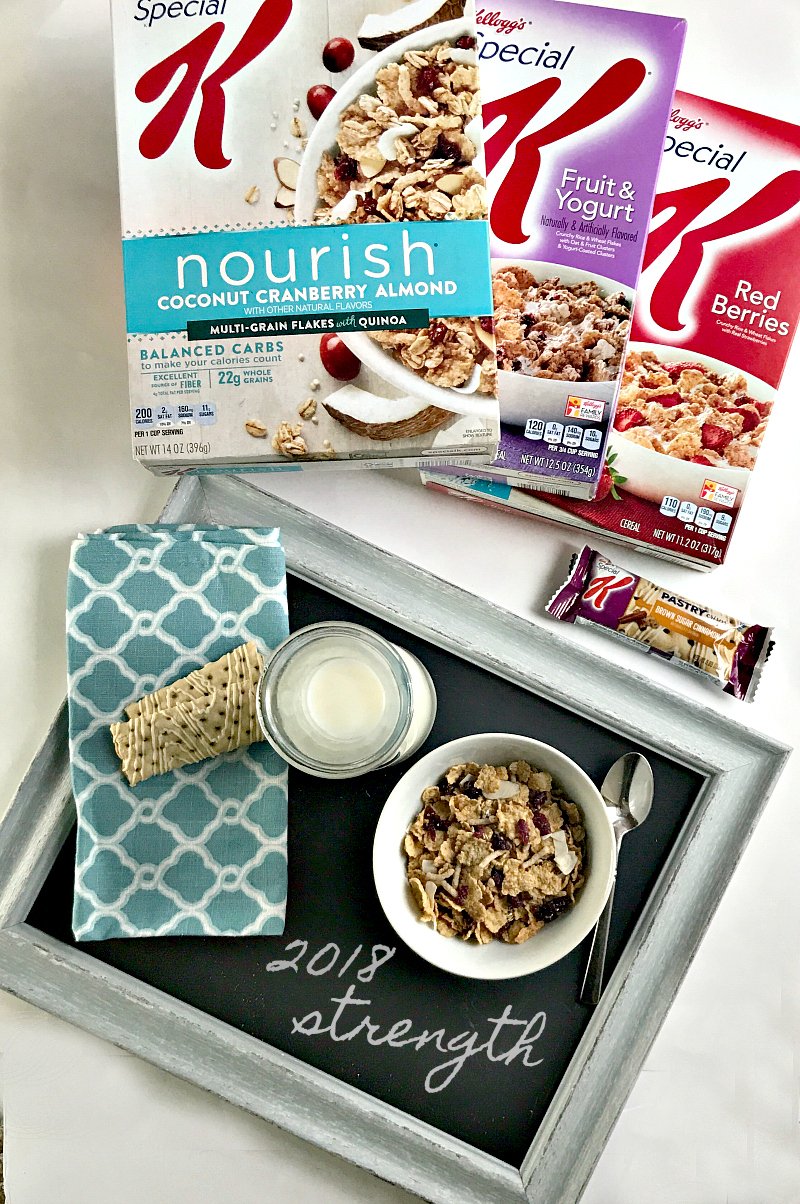 Hover the image above to start shopping for Kellogg Special K® Products!
For the past few years, I've chosen to choose a 'word' each year to guide my choices, goals and help me have focus. As a busy mom and parent,  life gets hectic. Your own goals, health and sometimes even confidence can take a back seat to all that is thrown at you.  Kellogg brand is hoping to help women "Own It" this year. A brand-led initiative that is meant to show confidence win women's daily lives and how they can 'own' their choices and how they choose to eat. 
I'm frankly tired of the whole idea of what diet to follow. Diets are out and confidence is in. A lifestyle versus an eating plan is 'in.'  And in so many areas of my life, I'm owning how I want to do it. Not just with eating. It goes for so many other facets of your life. There is no one way. So my word, this year, is  STRENGTH.  And for me, it's having the strength to take my own path and do things my way and what works for ME. Within each area of my life, this word means different things – nutrition, fitness, relationships, goals, hopes, dreams, and more. I will be looking at how STRENGTH fits into each of those categories. See more below how I'm definining my word of the year and how you can too!   
But first, back to eating. I love eating cereal, so it's not something that I want to give up. I love that Kellogg Special K® food and snacks can fuel my daily life and be a part of an on-the-go lifestyle. With so many varieties, I can start every morning with a delicious breakfast cereal. Here are some of my picks that I've stocked up on at Target:
Special K® Red Berries Cereal – This is my favorite cereal – the red berries, a must! 
Special K® Nourish Coconut Cranberry Almond Cereal – The Nourish line has wholesome ingredients so you can feel confident giving your body what it needs.
Special K® Fruit and Yogurt – I just tried this cereal and it's delicious with the fruit and yogurt clusters. 
Special K® Brown Sugar Pastry Crisps – these bakery inspired favorites are great for satisfying sweet cravings!
Special K® Protein Peanut Butter Chocolate Bites – these tasty little bites have the protein needed to fuel your day. They are great in yogurt, too!
With the goal of eliminating a prescribed way of eating – and just focusing on better choices, I'm putting my word of the year to good use – having the strength to work hard and accomplish my goals, my way. There are plenty of resources and guidelines to help you choose YOUR word of the year, so I'm not going to go into that. What I will talk about is how to put your word into play and make the most of it. Below are the things you can do with your word of the year and how to plan for your word: 
 (1) Plan It 
To really own your word and put it into practice, PLAN what your word means to you in each different area of your life. You'll want to list goals from your word in each area that you want to focus on. For example, place your word of the year at the center of the paper. All around it, form mini lists of how you'll execute or what goals you have for that word in each life area – relationships, parenting, marriage, fitness, nutrition, overall health, mental well-being, etc. 
 (2) See It & Share It 
Put your word into view. Whether you display it on items such as water bottle, planners, screensavers or even on display.
I also have it here in the master bedroom, where I can see it each morning! 
Have a machine that makes vinyl lettering?  I use vinyl to change the word or quote on this framed board. For the start of the year, it's my word! 
 (3) Quote It 
Choose quotes that speak to the goal of your word of the year – a quote collection. I have a collection of quotes that I'll keep on my phone, print out to display or add to a planner or journal. Whichever way, you can read through them or add new ones when you need a little boost. 
 (4) Wear It
I don't recommend going overboard, but one item that you wear and can see is a nice little reminder. My word is inscribed on this simple leather band that I ordered. It wasn't expensive. I did it last year, too, and it's nice to have a leather band for each word and year. You can also put your word on a tote, necklace, or even a t-shirt/tank you wear to the gym. 
Want to make Special K cereals, bars and bites a part of your New Year? Shop at Target with these promotions: 
From 1/7/18 – 1/13/18: Special pricing – $2.50 each for select Special K Cereals and all Special K Bars and Bites, with the exception of Special K meal bars at Target
From 11/1/17 – 6/1/18: Get a free Swell water bottle with an empowerment message on it via Kellogg Family Rewards when you purchase any combination of three (3) participating Kellogg® Special K® products between 11/1/17 and 6/1/18. Receipts must be submitted by 7/1/18. 
 Click here to learn more about the Kellogg Family Rewards offer for a free Swell water bottle with purchase of three Special K® products!
You can find these products, and more, at Target Stores in the cereal aisle.
What would your word of the year be? How will you OWN IT in 2018?