This shop has been compensated by Collective Bias, Inc. and its advertiser. Product was provided by the client for review; however, all opinions are mine alone. #WorldsSmartestToothbrush #CollectiveBias
s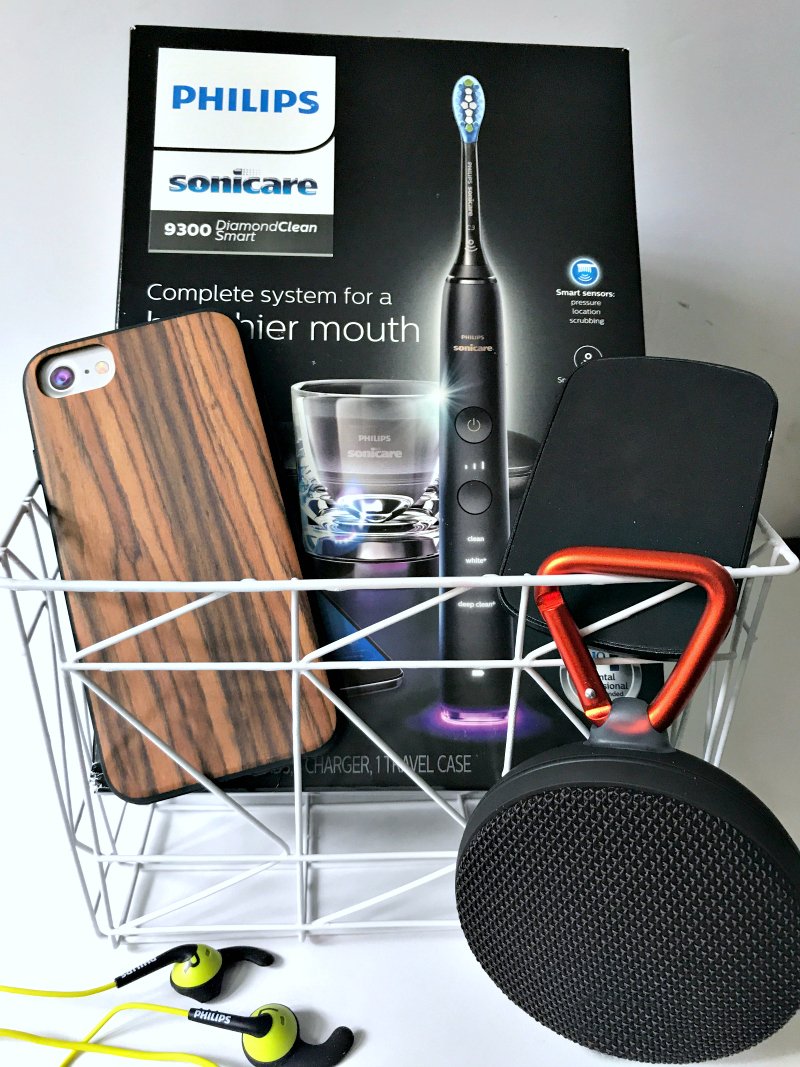 Quick shopping: Hover over the image above to shop!
Quick shopping: Hover over the image above to shop!
If you have a tech-savvy guy in your life, you know how hard it can be to shop for them!  Not only do they already have the latest gadgets, phones and electronics, they are also super picky about the quality of their tech products. This year, I had to think outside the box and came up with a few gifts for the ultimate tech gift basket. I chose products that served a real function – things my husband did not have or need solutions to. 
How to Create a Holiday Tech Gift Basket – Product Picks 
1. Philips® Sonicare  DiamondClean Smart Electric Toothbrush 
If there was one must-have for this gift basket, this is it. This smart toothbrush will allow your guy to 100% confidence in his oral care. With feedback and coaching, this smart toothbrush is like giving the gift of better oral health. (See more below) 
2. Wood Grain Phone Case 
Thes are really popular right now. Depending on how much you want to spend, there's varying quality and even real wood. It's definitely an eye-catching tech accessory that will make your guy's latest smartphone stand out! They do make these for most phones so just be sure you pick up the correct case for your model. 
3. Waterproof Wireless Speaker
This is great for both guys who like to take their tunes on the go or just into the shower! These Bluetooth speakers are waterproof so you can feel great taking them on vacation, on a hike, or just poolside. It's even safe to hang in the shower so your guy can enjoy his tunes anywhere. 
4. Wireless Ear Buds
It's so freeing to be able to listen to your music on a jog or while working without having to worry about the cord staying connected to your phone or device. I purchased these thinking they'd be great for when my husband is doing yard work or is working out at the gym. 
5. Bluetooth Tracker 
These are great for keys, or just about anything you want to keep track of – smartphones, luggage, wallets or did I mention, KEYS?  (No more going to pick up your husband at work at 10 pm because he lost his keys. True story.
6. Activity Tracker 
Encourage better health by helping your guy track everything from steps to sleep. These smart trackers improve all the time, so even if your guy has one already, upgrade to some new features. 
7. Hands-Free Car Mount 
I think everyone can agree that safety while driving is a huge priority! A Hands-Free Car Mount is great for directions and keeping the phone visible without having to reach for it or touch it. In combination with car features that connect and help you control your phone with your voice, a great car mount is essential.  Tip: I purchased the matching car mount to the wood grain phone case. It has a magnet that makes the phone easy to mount. Look for this feature – it's great! 
Despite all these gifts, the  Philips Sonicare DiamondClean Smart Electric Toothbrush is really the main gift to my husband this year…the real star of the show. 
He was due for an upgrade from an older model Sonicare. And an upgrade it was! The Sonicare DiamondClean toothbrush has four high-performance brush heads and Smart Sensor technology for personalized feedback and coaching.
You can download the app and the sensors and app help you perfect your cleaning technique – getting a complete clean. I love that the Sonicare toothbrush helps you care for your entire mouth – teeth, gums and tongue, allowing you to get healthier gums in 2 weeks* (*vs a manual toothbrush). Not to mention, I love the charging feature with the base and cup. Genius. 
For the tech-savvy guy who has seen it all, this is a cool product. I can tell that he was surprised by how many features his new toothbrush has! And to impress the tech-loving guy, that's a win.