This shop has been compensated by Collective Bias, Inc. and its advertiser. All opinions are mine alone. #ThinkOutsideTheWipe #CollectiveBias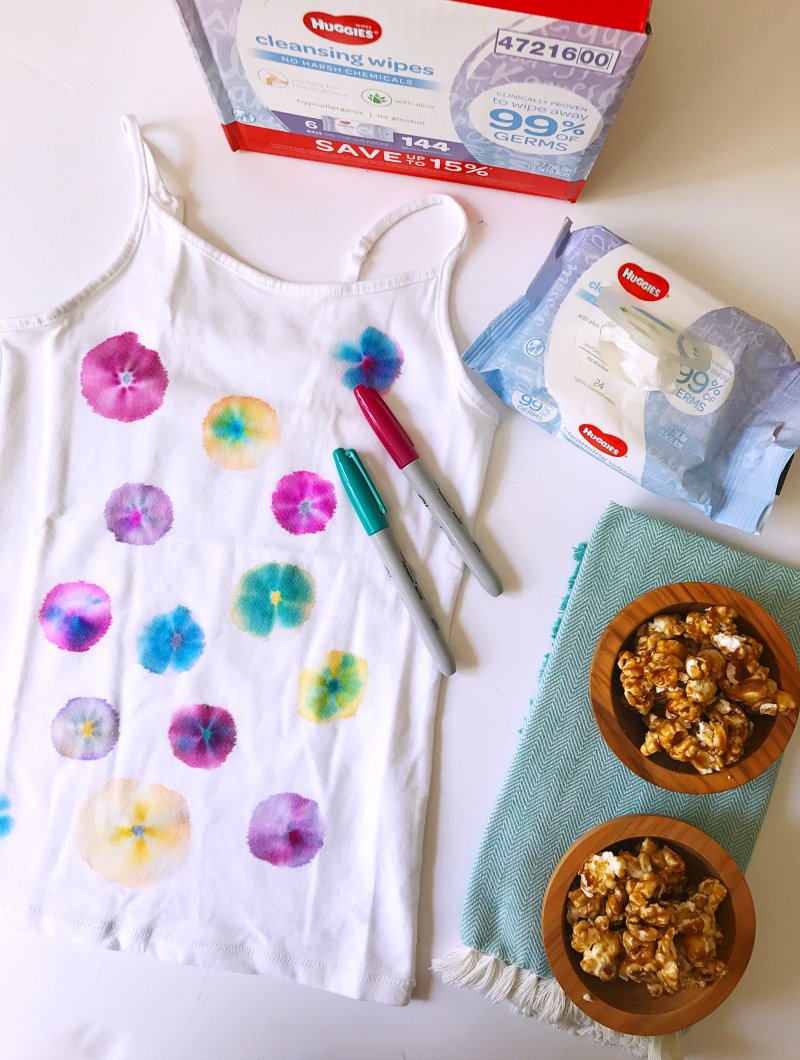 There's nothing my kids find more fun than doing a craft at home. They love when it's something new to them and even better when it's something they can wear! Recently, we made Marker Tie Dye Shirts and a fun snack to go with it. The kids love popcorn, so to get the fall mood, we decided to make caramel popcorn. (You can get the super quick and easy recipe below!). 
To start, you'll need only a few inexpensive items: 
a plain white shirt
permanent markers 
rubbing alcohol
dropper
piece of cardboard 
Start by making small designs on the shirt. Be sure to have your shirt fitted on the cardboard so that it does not go through to the other side.  I find that making a flower-type design works best when the ink spreads. Choose a variety of colors or stick to a couple for a certain theme. 
You can do all your shapes at once or spread each shape with the rubbing alcohol and then make the next. I prefer the latter as it helps me plan the spacing for the design. (I'm just a little OCD!) 
Either way, once you have your design, use your dropper to place 2-3 drops on each spot. Watch as the ink runs creating a design.  I find they look like flowers! My girls loved that.  If you were to make your spots longer, you might get a more "firework" effect. 
Allow to dry and iron gently on medium high to set the design. 
We enjoyed our sticky but yummy caramel popcorn after our shirts were done.
The results looked fantastic! But between crafting and cooking – and after eating – we cleaned up with Huggies® Cleansing® Wipes
Whenever we're doing crafts or cooking, I keep Huggies® Cleansing® Wipes. Think beyond the wipes here — they are a necessity at all stages of childhood. Let's face it, messes happen! Whether it is big or small, Huggies Cleansing Wipes help me embrace the mess and clean up without fuss.  
The wipes are soft and made for sensitive skin. They are fragrance, alcohol and paraben free, so you can feel good about cleaning up with them. They are enriched with aloe and Vitamin E for outstanding skin care. I can take these anywhere – and I do! I keep the handy soft packs with me at all times! One is in the car, one in my bag and a few around the house. The EZ Pull® Dispensing allows you to get one wipe at a time so there's no wasting. 
I shop at Sam's Club so that I can stock up and never be without Huggies Cleansing Wipes. You can find them in the baby aisles near diapers and formula. In my store here in NJ  – this was by the pharmacy section. 
My favorite service is the Sam's Club Pick-Up Service allowing me the convenience of ordering what I need and picking it up from my local Sam's Club. No fuss, no hassle, no time spent shopping with three kids. Sam's Club gets my busy lifestyle and overall helps me get more bang for my buck. Added to that, you can get free shipping NOW on wipes! In fact, you'll want to take advantage of the offer to Get $8 off the purchase of any two Huggies Products, valid 8/23 – 9/17 while supplies last. 
Share with me – how do you and your family embrace the mess? How can Huggies Cleansing Wipes help clean it up?