This shop has been compensated by Collective Bias, Inc. and its advertiser. All opinions are mine alone. #PeriodConfidence #TryTheDivaCup #CollectiveBias
Heading to fall blog conferences? Or maybe you're participating in an immersion weekend or event for a brand or client? Here are some essentials you won't want to be without: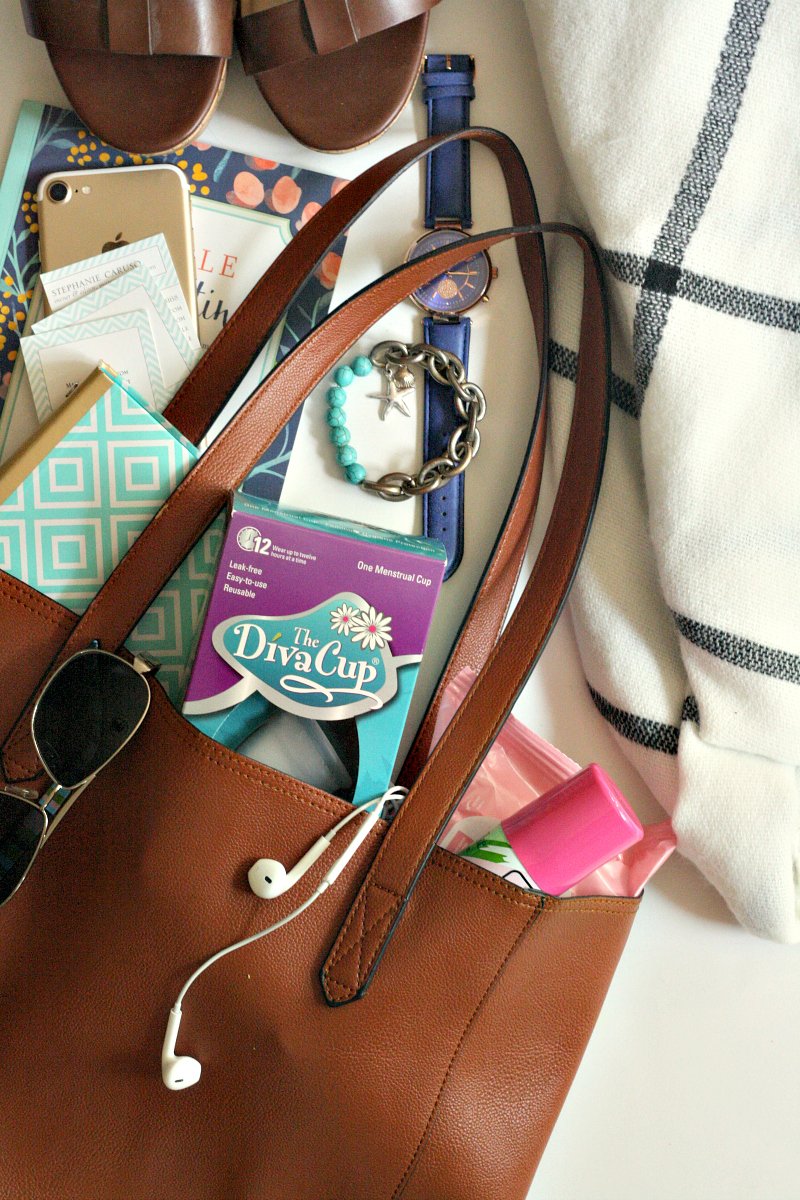 Interested in trying DivaCup? Hover over the photo to click through to Walmart.com and buy them!
In the past few months, I have attended several blogger events. Whether it was a conference I opted to attend or an event that I was invited to, I've had some practice in learning what to bring along with me to these events. Packing for a conference or an immersion weekend can be daunting. So, I thought I'd share some of my essentials when traveling for blogger event and conferences. Packing light is key and if you'll be traveling by plane, that's even more important. Try to pack everything in a carry-on and fit everything else below in your bag: 
A Good Tote
A good tote will serve you well during travel and at the event. Make sure you choose a larger tote that can function as a carry-all for all the items you'll want with you during the day. Be sure it is comfortable and easy to carry! 
Versatile Shoes
To save space packing,  I like to pack no more than two pairs of shoes. Depending on the season, I can sometimes get away with one pair. Coming off the warmer weather, I have a strappy wedge that worked great with jeans by day and paired great with a dress at night. 
Smartphone 
This one is obvious. Of course, you wouldn't go without your smartphone! But it's not the phone itself, but rather what is on it. Come prepared with the apps that will make the trip easier for you. For example, apps that will help you navigate the city you are in, notetaking apps, apps for tracking expenses, and of course social media apps.  Keep your itinerary on your phone so it's easy to pull up fast. 
Business Cards
Come prepared with professional looking business cards that match your brand, website or style. Have plenty on hand and give them out to everyone. 
Prepared Quick Line
Along with business cards, you will find that you need a "Quick Line" to sum up your blog, brand or business. Have one prepared because you will be asked every time you meet someone what you blog about. Have a prepared quick line that sums up who you are, what you do and what your business is all about. Keep it short, keep it simple. 
Wrap or Large Scarf 
I like to travel with a large scarf that I can use to cover up on a cold airplane or in chilly conference space.  It can be used as an accessory and serves as a pretty functional piece when traveling.
Inexpensive Jewelry and Sunglasses
Leave the good stuff at home so you'll have no worries. Bring several pieces that when added to a basic dress you were wearing by day – can elevate the look for dinner that evening. This is especially helpful when you have a crammed itinerary. 
Personal Products
I always make sure I throw mints or gum in my bag, especially when you're speaking to so many people all day long! Other personal items might include lip balm, lip gloss or a few makeup essentials.  I also make sure I have facial wipes for a quick face washing. On a recent trip, I got off a plane and had an event to be at within an hour. Needless to say, it was nice to be able to freshen up quickly.  A light body spray is also something I always have in my bag and can easily help you freshen up. 
If it's that time of the month (and of course it will be when you're traveling!!)  you'll want to make sure you bring along The DivaCup, which offers 12 hours of leak-free protection. The DivaCup is clean, comfortable and convenient providing better care than tampons and pads. While these have existed for years, menstrual cups have been making a breakthrough into the femcare industry recently. I have a friend who swore by them and when I finally tried, I couldn't believe how much more I preferred it.  In addition, The DivaCup is made from 100% healthcare grade silicone and free of chemicals, plastic, BPA, latex and dyes. The DivaCup is also ideal for all levels of activity – from sports to sleep. Given that is reusable, it is eco-friendly and cost effective!  You cannot feel it when it is in place correctly and given that the average monthly flow is 1-2 oz, and The DivaCup holds 1 oz over the course of 12 hours, it just makes sense! 
The DivaCup is available in two sizes, Model 1 and Model 2
DivaCup Model 1: Recommended for women under the age of 30 who have never delivered vaginally or by caesarean section.
DivaCup Model 2: Recommended for women age 30 and over/or for women who have delivered vaginally or by caesarean section.
The DivaCup is better than traditional options, like pads or tampons – during travel and everyday. The burden of packing for your period is extra stuff and space you don't have. The DivaCup is the solution for a better experience every single month. So, travel or not #TryTheDivaCup.
I found The DivaCup, Model 2, at CVS in the femcare aisle: 
More Information: 
 If you've decided to try it, be sure to read the User Guide before trying the cup and to consult with their healthcare provider if  you have any question
Their Consumer Care Team is available to answer questions and concerns. They can be reached at support@divacup.com, 1-866-44-3482 or via our social media networks. This team is really the best team to contact and are super helpful to customers. 
Ready to #TryTheDivaCup? You can also find it via the Store Locator  
What are your travel essentials?