This shop has been compensated by Collective Bias, Inc. and its advertiser. All opinions are mine alone. #BigLotsHome #CollectiveBias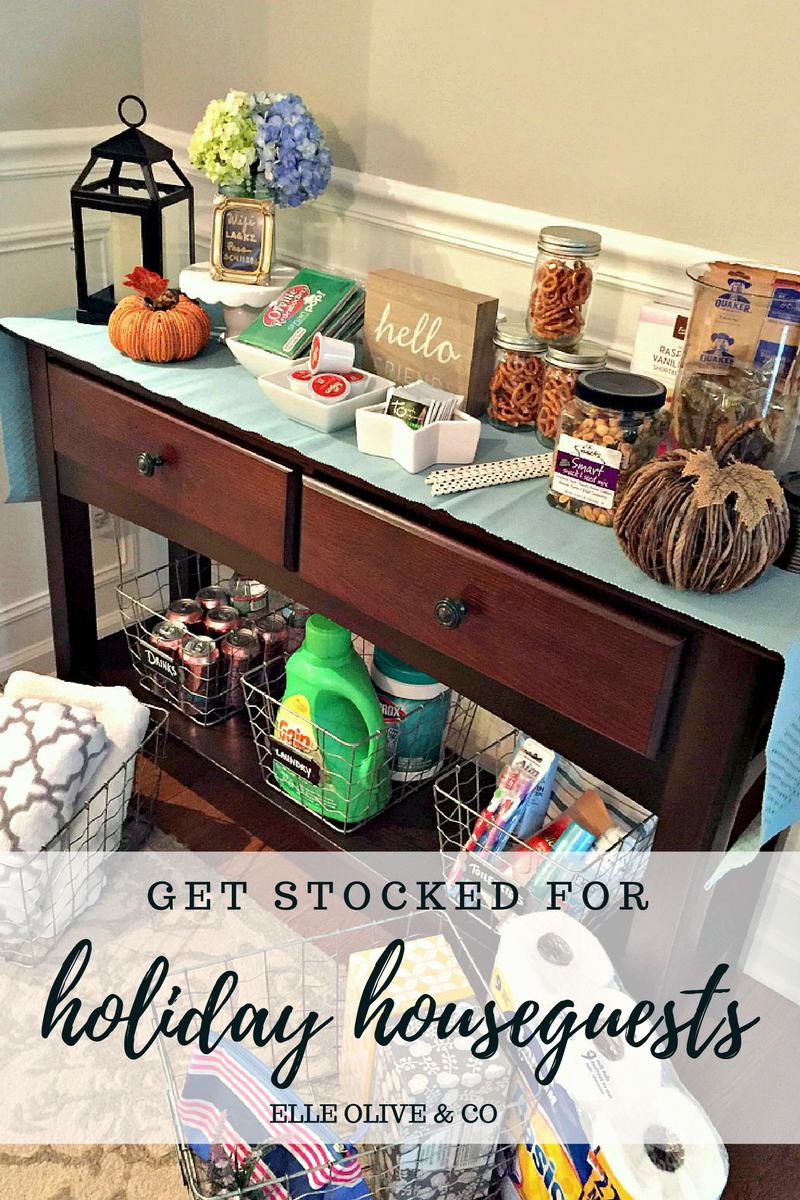 With Autumn's arrival, I start thinking about the holidays. The holiday can really creep up on you if you're not planning for it – especially when comany's coming. It can feel overwhelming to get ready for houseguests – there's so much to do to prepare. Fortunately, Big Lots has a variety of items, from home decor to food, and is a one-stop-shop that allows you to better prepare for these extra busy last few months of the year. 
From small scale items to large scale items, Big Lots carries high quality home decor items that are fashionable and on trend. Not only can I decorate my home for each of the holidays, add in new furniture pieces, household items and decor — I can also stock up on all the consumables a home needs to make guests feel at home.
Tips : Stocking Up For Houseguests 
When you are preparing for houseguests, think about your own experience as a guest. Ask yourself what you appreciate as a guest and think about the times you had a great experience as a guest – either in someone's home, a hotel or bed and breakfast. I get a lot of my ideas from stays in some beautiful B&B's — one thing that is always common in great hospitality is accessibilty and feeling like the inn-keeper thought of everything. I try to take some of those favorites and provide it for my friends and family. 
Snacks & Treats
Your guests don't want to wonder what they can munch on and most don't want to go rummaging through your pantry or cabinets. Outside of meals, have some snacks, treats and beverages on hand that your guests know is for them. They'll appreciate it being in one central location (the kitchen, a family room, hallway, etc). Ask ahead to see what some of their favorites are or if there are allergies. 
Snack mix and popcorn are great options. You can also fill jars with pretzels, cookies or have individually wrapped treats like biscotti that go nicely with a good cup of tea or coffee. Speaking of coffee…when I'm a guest, I like to know where I can get my caffeine. If I wake early, I love knowing I can get a cup of coffee BEFORE my hosts wake up – without bothering them.  Have coffee, tea, and sparkling water on hand.
Big Lots has all of my favorite teas, coffees and popular sparkling water brand, La Croix (I stocked up like you wouldn't believe!)
Keep Your Guests Connected
Along with items they might need, your guests will appreciate having information at their fingertips. I have a small frame with our WIFI password on it. I put this out all the time – even when guests are not staying over. If you're having a family party or holiday get-together, people will appreciate being able to stay connected. 
If your guests are in town for a special event, you can leave important information or itineraries for them. Or perhaps, you'll be working during the day while they are staying and leaving some lunch or sightseeing suggestions will be appreciated. 
Provide Extras & Forgotten Items
Everyone forgets things when traveling. Fill a basket with toiletries that your guests might need – extra toothbrush, deodorant, toothpaste, shampoo, body wash, etc. Have first aid items, tissues and basic medicine for cough/cold, headache, pain relief. You'll also want your guests to know where they can get cleaning items and laundry detergent. 
Comforts of Home
Have lots of extra towels available, quality toilet paper (this is important!) and plenty of tissues. I also like to buy inexpensive slippers that my guests can grab. 
If you have guests coming this holiday season, visit Big Lots to see how easy it to stock up in one trip! 
Shopping at Big Lots is always so much fun – because I never know what I'm going to find. It's one of those stores that I have to make sure I go down every single aisle, because I don't want to miss anything. For example, the large Gain (my favorite detergent) for a phenomenal price and LaCroix sparkling water. My husband was surprised with how many of those cases I came home with! One thing that sets Big Lots apart is the employees. Not only are they visible and in the aisles, but I'm always asked if I need help, assistance or if I'm looking for anything in particular. It really shows they go above and beyond to make for a great shopping experience. Clean, well-stocked and organized aisles and shelves make for a great shopping trip where I easily checked everything off my houseguest shopping list – and more! 
Get Connected with Big Lots